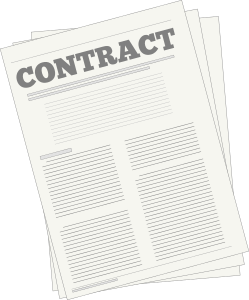 On the first of August, Ancestry.com released new terms and conditions. Keep in mind that I am not a lawyer nor do I play one on TV. My opinions about the Ts & Cs should not be considered legal counsel. If you have questions, be sure to consult a licensed attorney. One schooled in Utah contract law might be advisable because my understanding is that merely using Ancestry.com establishes a contract between Ancestry.com and yourself. That contract is the Ts & Cs, so it is good to read through them once in awhile. Here are some changes I thought interesting:
The new terms and conditions apply to Ancestry.com, Fold3.com, and Newspapers.com. I don't know how much the Ts & Cs of these three differed before, but it is certainly easier for users to have just one to understand. However, Rootsweb.com, genealogy.com, and mundia.com were removed from the list of "the Ancestry Community."
Ancestry.com has added a section explaining that the contents of the websites are provided AS IS. While they attempt to make it accurate, they make no claim that it is "complete, accurate, reliable or error-free."
I often hear people ask if they can download stuff from Ancestry.com and put it up on FamilySearch Family Tree. Ancestry.com has added language clarifying what can and can't be done:
You may access the Websites and use the Content only for personal or professional family history research, and download Content only as search results relevant to that research. For example, the download of the whole or material parts of any work or database is prohibited. Resale of a work or database or portion thereof is prohibited. Online or other republication of Content is prohibited except as unique data elements that are part of a unique family history or genealogy.
Interpretation of the word unique there seems pretty important. Tempting as it is, I'll resist giving any.
Ancestry.com has added a section addressing the issue of the public domain documents it has digitized (mostly from NARA).
Ancestry does not claim an exclusive right to images already in the public domain that it has converted into a digital format. However, the Websites contain images or documents…that, even if in the public domain, are subject to restrictions on reuse. By [accessing the Websites], you agree to not reuse these images or documents except that you may reuse public domain images so long as you only use small portions of the images or documents for personal use. If you republish public domain images, you agree to credit the relevant Ancestry Website as the source of the digital image, unless additional specific restrictions apply. If you wish to republish more than a small portion of the images or documents from any of the Websites, you agree to obtain prior written permission from us.
I skipped some language of that section to emphasize your contract regarding public domain images. Let me do the reverse now for non-public domain images.
The Websites contain images or documents that are protected by copyrights or that…are subject to restrictions on reuse. By [accessing the Websites], you agree to not reuse these images or documents….
When you contribute content to Ancestry.com websites, you grant them a license to use it. That only makes sense. They have strengthened the wording of that license by specifying the license is "perpetual, royalty-free, [and] world-wide" and licenses them to "otherwise use your submission to the extent…we deem appropriate…. This license continues even if you stop using the Websites or the Services." As before, you still retain ownership of your content. You just can't demand that Ancestry.com give it back to you.
Ancestry.com's hasn't yet closed the loophole that I've seen used to allow multiple people to justify sharing a single subscription. In both the old and new Ts & Cs, Ancestry.com specifies that "distribution of your password to others for access to Ancestry is expressly prohibited." To this they have clarified that "you must keep your account password secure." I've seen people login to a subscription in a public place and leave it logged in with the express purpose of allowing a group to use that one subscription. Should someone accidentally logout, the account holder must show up and reenter the password, so as to not violate the Ts & Cs.
You should not depend on what I've said here. You should read the Ts & Cs for yourself at http://www.ancestry.com/cs/legal/termsandconditions. The old Ts & Cs are available at http://www.ancestry.com/cs/legal/TermsAndConditions_2012_04_26_US.